Pursue MBA in Digital Marketing in Palanpur with a 100% Placement Guarantee. 
EDIIFY has launched The MBA in Digital Marketing in Palanpur with AI in Collaboration with Jain University, which is an 11-month programme, hence the students get not only in-depth knowledge of the Digital Marketing space but also a University Certification accepted by 80+ countries in the world. 
With the entire world going on the internet, the demand for Digital Marketing professionals has grown many folds. With the decrease in hiring rates in India due to the pandemic, the reverse trend has been observed in the field of Digital Marketing field. And this Mumbai-based Digital Marketing institute has achieved a milestone of 100% campus placements this year. 
The MBA in Digital Marketing course comes with a 100% placement guarantee during and after the course completion. They provide hands-on experience with different Digital Marketing tools as well as soft skill training. The course is available with a 0% EMI Option as well. 
A Step Toward Bridging the Gap
EDIIFY has introduced MBA in Digital Marketing course in Marketing Automation to Develop an in-depth understanding of inbound marketing, paid marketing, social media marketing, and web analytics. This course covers 400+ hours of online and offline training and a 2 months internship with specialization in paid Media and/or Search Engine Optimization (SEO), hands-on practice on Live projects, Interview and Soft skills training, Linkedin Learning – Unlimited access for 1 Year, 100+ Digital Marketing with Automation Modules. This course is also available as MBA Digital Marketing Online. 
The Syllabus of this MBA in Digital Marketing course has been designed to meet the industry standards and bridge the existing gap in the industry. The syllabus is curated in a way that takes one from the basics to the expert level in the span of 11-Months. 

MBA in Digital Marketing Syllabus
Post Graduate Programme in Digital Marketing with AI consists of 2 Semesters of 4 months each and a three-month internship during or after completion of the course to give practical exposure to the students.  You will work on multiple case studies, assignments, and projects in this program that will help make you a confident digital marketer. You get to fast-track your career in the digital marketing field and become an expert by mastering the most in-demand skills, techniques, and tools.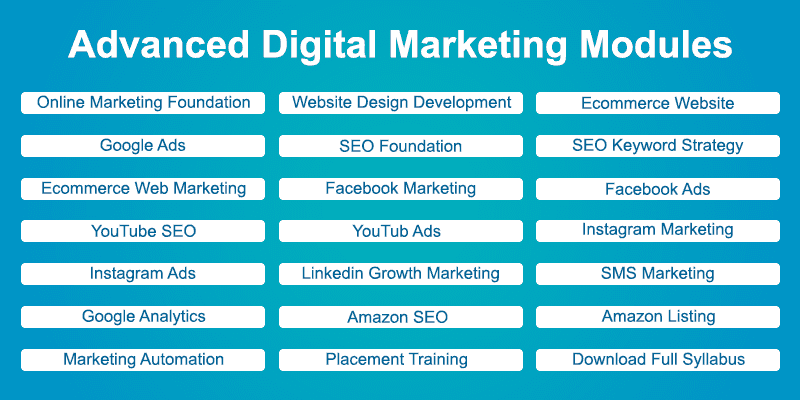 Semester 1
:
This semester will cover all the basics. The Syllabus comprises Digital Marketing modules such as Website design and development, E-commerce, SEO foundation, Google Search Console, YouTube Ads, Social Media Marketing, LinkedIn Growth Marketing, and 10 more modules along with basics of Marketing Automation. 
Semester 2:
The Syllabus comprises Google Adsense, Online Media Planning, Content Marketing, Social Media Optimization, ORM, freelancing, and 12 more modules along with Advanced Marketing Automation and Performance Marketing.   
Tools You Will Master
Google Keyword Planner, Hootsuite, SEMrush, YouTube Advertising, Linkedin Ads, Google Analytics, and many more.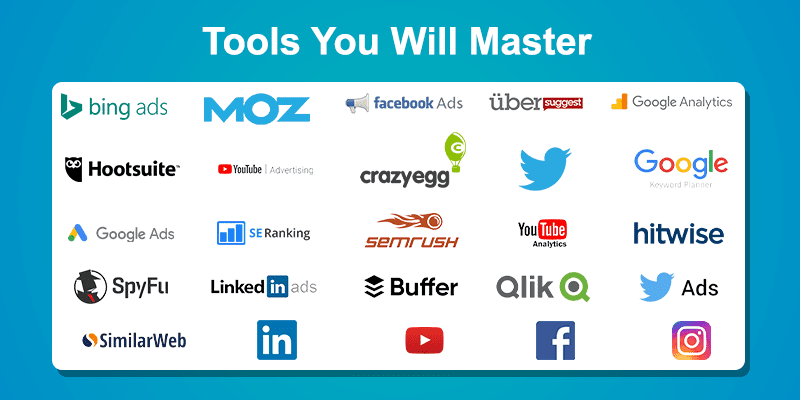 Our Placement Partners
Amazon, Plum, Planet Marathi, Logicloop, Zomato, Media.net, First Economy, Brand Factory, LogicserveDigital, and Critical Mention are some of their campus placement partners for their MBA in Digital Marketing in Palanpur programme.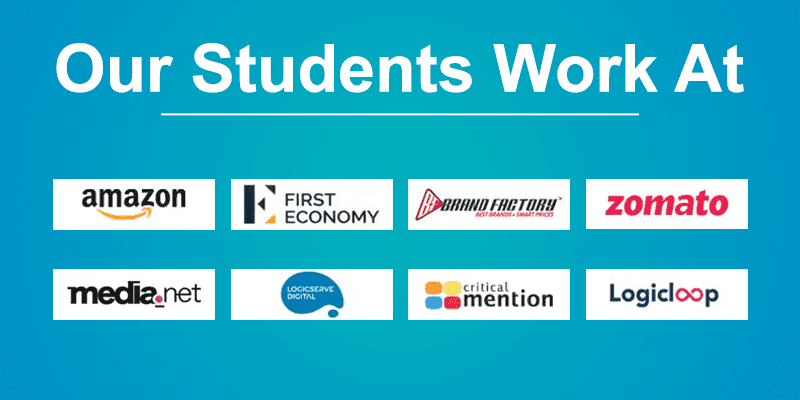 The students were mainly placed in Paid media, SEO, Social Media Marketing, and Content Marketing specialist positions. Other roles for which the students were hired are ORM Specialist, Media Planning, Brand Strategist, and Campaign Strategist. 
MBA in Digital Marketing Scope
According to a Goldman Sachs report, the future scope of digital marketing in the Indian internet industry alone is going to be worth US$160 billion by 2025, which is thrice its current value. 27.9% job growth has been observed from 2019 to 2025.
Certifications
Our Masters program is exhaustive and this certificate is proof that you have taken a big leap in mastering the domain. The knowledge and skills you've gained working on projects, simulations, and case studies will set you ahead of the competition.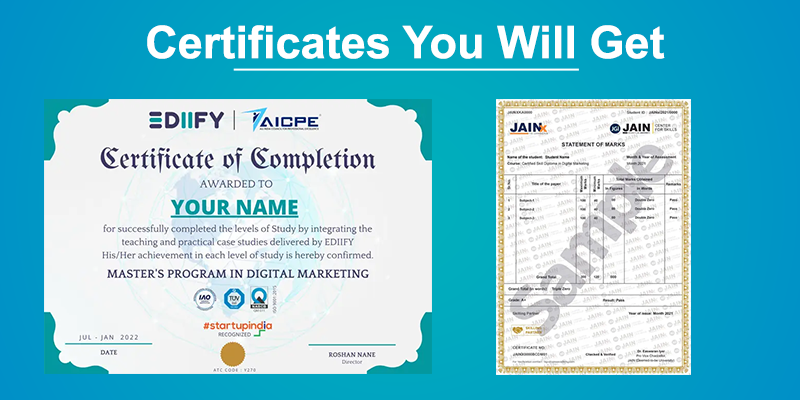 Achievements
EDIIFY has been awarded the Indian Achievers Award. They offer multiple courses, the flagship being Post Graduate Programme in Digital Marketing with AI in Collaboration with Jain University. EDIIFY has transformed the careers of thousands of students in the past few years by giving them the best field knowledge and practical exposure. 
The students of their latest batch of MBA in Digital Marketing in Palanpur have received 65% more starting pay which is well more than the average pay offered to freshers in the field of Digital Marketing. All the students are trained to land an opportunity in their specific area of interest right from the first week of the beginning of the course, which is reflected while placement rounds.