Master's Program in Digital
Marketing with Artificial intelligence
Pay 50% fee until placement
EDIIFY 2.0 : Introducing Marketing Automation to Develop an in-depth understanding of inbound marketing, paid marketing, social media marketing, and web analytics.

In-house
HR & Digital Agency
Z

AICPE Approved (Regist. under - Ministry of Corporate Affairs, Govt. of India)

Z

Hand-on practice on Live Projects
Z

Certified Internship Included

Z

37+ Modules

Z

Placements Assured

Z

Lifetime Modules Access
Z

Interview training

Z

Soft Skills training

Z

0% EMI Option Available

Z

Premium Access to 20+ Plugins worth of INR 2 Lacs









About the Program
This Digital Marketing course will transform you into a complete digital marketer with expertise in the top eight digital marketing domains search engine optimization, social media, pay-per-click, conversion optimization, digital analytics, content, mobile, and email marketing. Fast-track your career in digital marketing today with practical training you can apply on the job.
I

Live Project Training

I

Industry Trainers

I

100 % Job Assistance

I

1:1 Mentorship

I

Career Guidance


Google



Facebook



Hubspot



Apple
1. Introduction to Digital Marketing
2. Website Design & Development
3. Ecommerce Website Design & Development
4. SEO – Search Engine Optimization
5. Social Media Marketing (SMO & SMM)
6. Google Adwords/Ads (SEM & PPC)
Digital Marketing Modules
Marketing Automation Modules
ATTRACT AUDIENCE ATTENTION
Landing pages

Ad management

Live chat

Conversational bots

Embed Forms

Web Pop ups
OPTIMIZE CONVERSION RATES
Site Messaging

Web Rules

Email Broadcast A/B Testing

Automations/Workflows

Nodes (Automation/Workflow)

Triggers

Landing Page A/B Testing
AUTOMATE & PERSONALIZE YOUR MARKETING
Marketing automation

Multi-language content

Smart content & reporting

Segmentation

Predictive Lead Scoring
Learning Path Components
You will work on multiple case studies, assignments, and projects in this program that will help make you a confident digital marketer. You get to fast track your career in the digital marketing field and become an expert by mastering the most in-demand skills, techniques and tools.
Learning Path Component # 1 – Website
It is the online address of your business/brand, having a proper official website is very important for success of your online marketing strategy. Make sure that your official website satisfies the following must-haves:
The website has to be user-friendly.
Should speak about your business/brand.
Include all essential contact information.
Website design should be professional, clean and easy to navigate.
Website should be responsive.
Your services/products should have individual pages that would help you track your conversions and monitor your performance.
Learning Path Component # 2: SEO
Many users and customers start their journey on search engines, by searching for the products and services they need. So, are you getting found when they are looking for services/products offered by your business?
Search Engine Optimization can help you found on search engines like Google or Bing. When you optimize your website/blog properly using the targeted keywords of your business, search engine ranks your website in the search results; making it easily visible to the users. SEO is not that easy as it seems, main key to success is proper optimization and patience.
Learning Path Component # 3- Paid Ads
Well, SEO is very valuable and also time-taking procedure, and in this competitive world, gaining quick exposure is quite important for building strong customer base as discussed by Lead Conversion Squared system that focuses on building leads that buy. For instant results, opt for paid advertising on various online channels. Google offers Google Adwords and Social Media platforms also offer paid advertising options, that provides right exposure and advertises your business to the targeted audiences. Investing in paid ads is a great way to put your digital marketing strategy in the right direction and reach your goals in a faster pace.
Learning Path Component #4: Social Media
When we say digital marketing, social media is the nondetachable and unavoidable part of it. Everyone is more and more active on social media platforms when compared to any other online entity, so reaching and connecting with your customers is easy through social media presence.
Utilize social media channels, to get connected to your customers and influencers. Social Media is powerful as you can directly talk to your customers and know what they are thinking about your products/services; so that you can grow more and more.
Learning Path Component #5: Content Marketing
Content is king, and will always be. Creation of content (like blog posts, videos, photos, social media posts, etc) and sharing it on different online platforms for brand awareness, lead generation, growth of traffic, gaining more customers or building reputation; is mainly called as content marketing. Precisely, this marketing is done implicitly to gain interests of the customers with the help of content, without promoting the business directly.
Learning Path Component # 6: Email Marketing
Email is a great and most effective way to keep in touch with your customers and talk about your services/products. Through emails you can showcase your services, Talk about new offers or resolve customers' issues. In short, you can maintain healthy relationship with your customers and influence them to do word-of-mouth marketing to new audiences about your business.
Learning Path Component # 7: Blogging
Having a blog for your business is a must, as it stands out to be additional asset for promoting your business. Blog would help you attain more trust from the users and authenticity in the market.
Integrate a blog on your official website and share content that would provide information and educate your users. Talking about marketing your business digitally, through blog you get to share more content on social platforms and communicate with your users, other than just sharing promotional content. And business that blogs gains more traffic to their website compared to businesses that don't.
Learning Path Component # 8: Analytics
Greatest asset of digital marketing is that you can measure your performance and efficiency through Analytics. There are many analytics tools that would help you analyze and measure your marketing campaigns through website, blog, social media channels and paid advertising. The analytics data is crucial for increasing your performance and also for generating more leads.
Learning Path Component # 9 – Resume
Learning Path Component # 10 – Soft Skills
+917400364632
Talk to our Course Expert
Final Close-Out (50% OFF)

Premium Access to 20+ Plugins worth of INR 2 Lacs








Get Ahead with Ediify's Master Certificate
Our Masters program is exhaustive and this certificate is proof that you have taken a big leap in mastering the domain.


Differentiate yourself with a Masters Certificate
The knowledge and skills you've gained working on projects, simulations, case studies will set you ahead of competition.
Final Close-Out (50% OFF)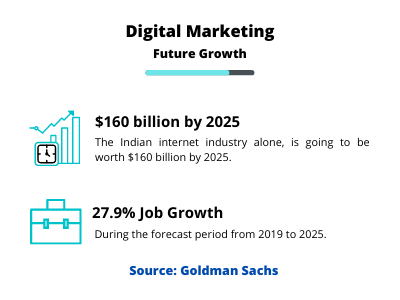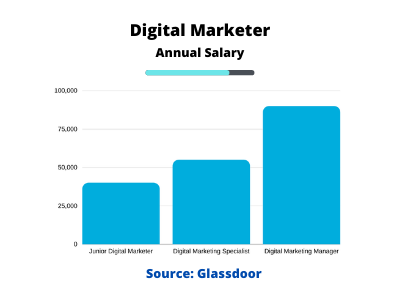 Our Top Learners Verbatim
I am Thankful to EDIIFY for helping me to build my career into Digital Marketing. They are not only committing for placement but also placing students in good reputed companies. I would highly recommend others EDIIFY Digital Marketing Course.
EDIIFY is agreeably best place to learn digital marketing. It doesn't matter if you are a rookie, they will groom you in the best way possible. – Want to learn digital marketing, choose EDIIFY.
Undoutedly,this institution can be considered as one of the most innovative and creative place to learn digital marketing. The methods implemented by the company are practical and innovative to achieve marketing success in real life situations.
Digital Marketing Salary
Digital Marketing Salary in India 2020 – Average to Highest
Digital Marketing Manager
Average Digital Marketing Executive Salary in India: Rs.8,35,000 (5 – 9 years of experience)
Digital Marketing Freshers
Average digital marketing salary for freshers in India: Rs.3,67,503 (1 – 4 years of experience)
Digital Marketing Specialist
Average Digital Marketing Specialist Salary in India: Rs.4,86,053
Content Marketing Executive
Content Marketing Executive Salary in India: Rs.2,00,000 – Rs.4,00,000 (0 – 3 years of experience)
Pay Per Click Analyst
Pay Per Click Analyst Salary in India: Rs.2,50,000 (1 year of experience)
SEO Specialist
SEO Specialist Salary in India: Rs.2,20,000 (1 – 2 years of experience)
Social Media Marketing Specialist
SMM Specialist Salary in India: Rs.1,50,000 – Rs.3,50,000 (0 – 3 years of experience)
Content Marketing Head
Content Marketing Head Salary in India: Rs.10,00,000 to Rs.20,00,000 (over 8 years of experience)